Greens with Smoked Oxtails
Cooking collard greens with smoked beef oxtails. A delicious soul food side dish that your family will love!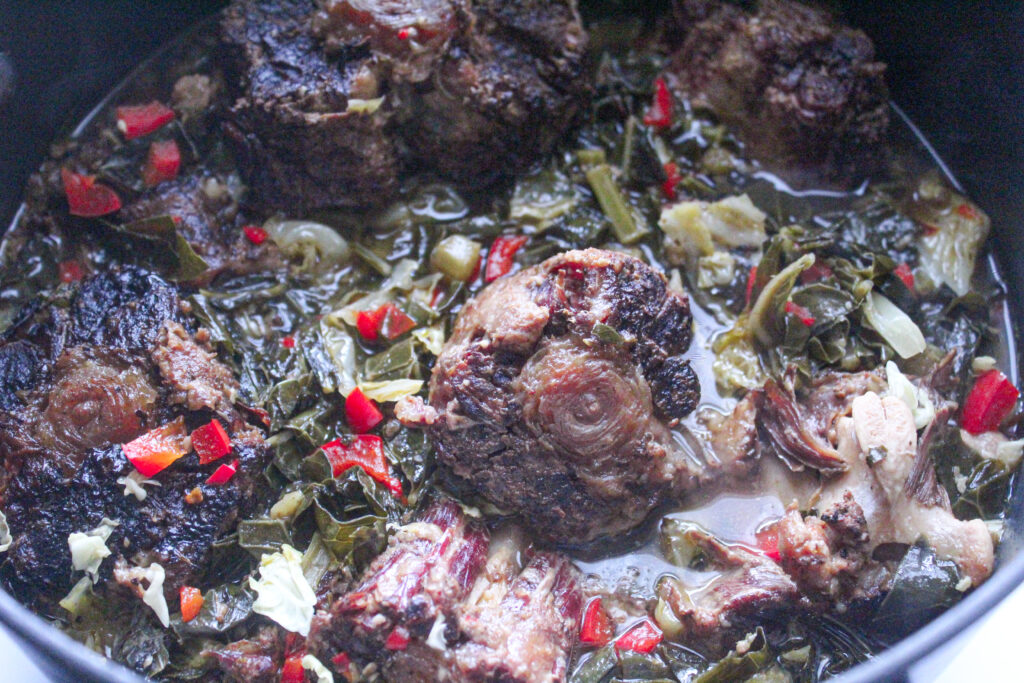 Hey cousins! So in my previous post I showed you how I made smoked oxtails. I also mentioned that you'd want to get that recipe down, because I'd be using the smoked oxtails in a few upcoming recipe. Well babies, it's time that we put those oxtails to use, and the first recipe that we will be using them in is these delicious soul food collard green recipe! In the past I've made collard greens with ham hocks, bacon, ends, and smoked turkey. However, I wanted to do share something different. So let me show you how I make my collard greens with smoked oxtails.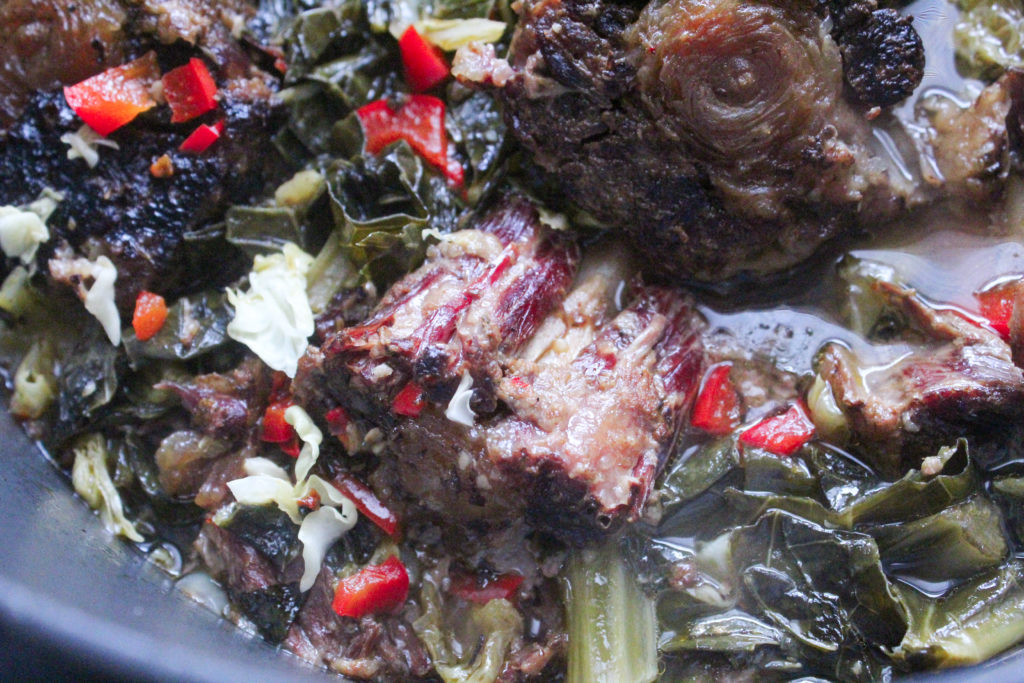 First things first. You'll smoked oxtails, and you can find my smoked oxtails recipe here. Once you're done smoking the oxtails, you'll need to gather up your collard greens. Now when it comes to collard greens, feel free to use either fresh, frozen, and bagged… But DON'T, I repeat DON'T use canned collard greens!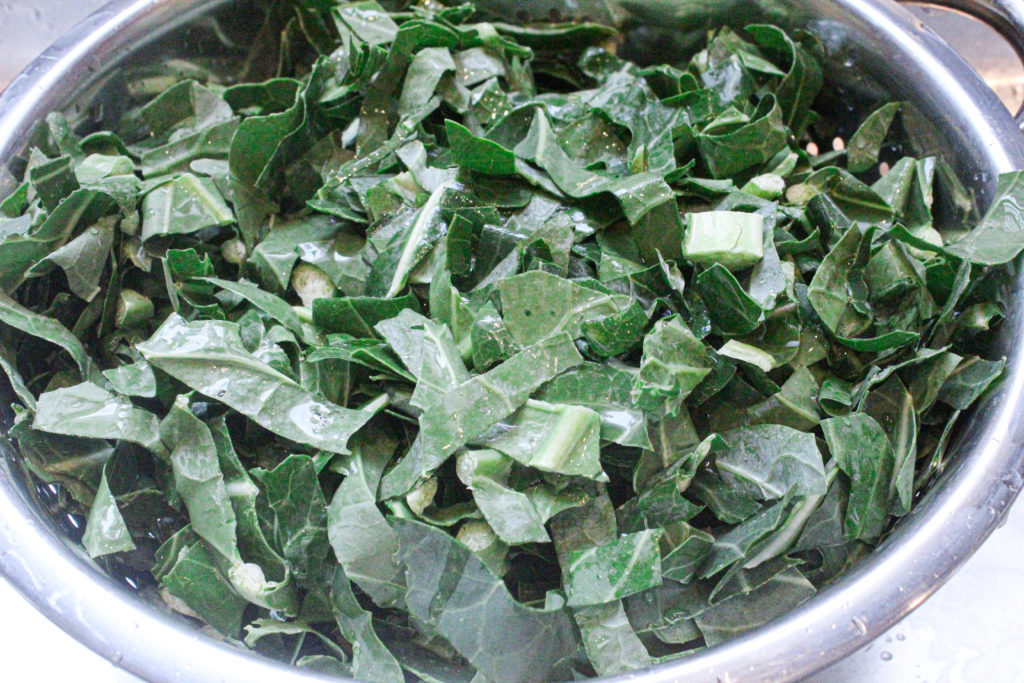 For this recipe I used fresh greens, that were bagged, cut and " cleaned". I still cleaned them! I don't trust when they say " cleaned" because, I've had bad experience. So people be sure to STILL clean those bagged " cleaned" greens.
Other than collard greens and smoked oxtails, you'll also need a large yellow onion, creole seasoning, seasoning salt, black pepper, minced garlic, red bell pepper, and red pepper flakes. Oh, and I also add 1 tbsp of brown sugar. Now, I'm sure someone is frowning while reading about the brown sugar part, but I promise you that it WILL NOT make the greens sweet! The brown sugar just helps bring down the bitterness.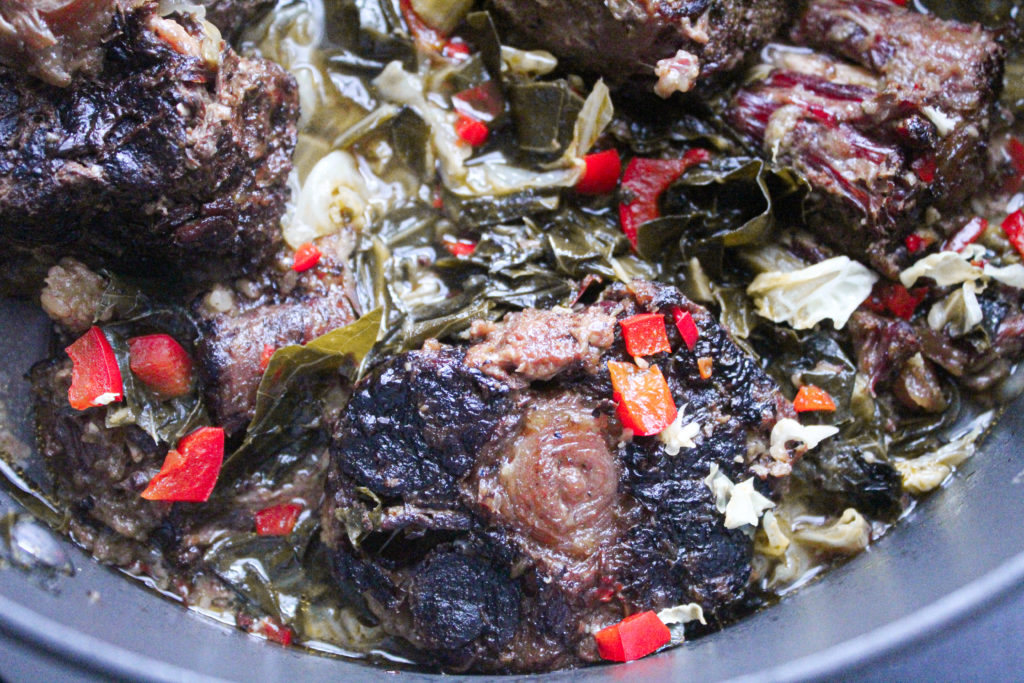 Ingredients
4

 

lb

 

collard greens

 

washed and cut

1 1/2

 

lb

 

smoked oxtails

1

 

large

 

yellow onion

 

diced

1

 

tbsp

 

minced garlic

1

 

medium

 

red bell pepper

 

diced

2

 

tsp

 

creole seasoning

2 1/2

 

tsp

 

seasoning salt

1 1/2

 

tsp

 

ground black pepper

1

 

tsp

 

red pepper flakes

 

optional

1

 

tbsp

 

brown sugar

2

 

tsp

 

apple cider vinegar

10

 

cups

 

water

1

 

small

 

head green cabbage

 

sliced and washed
Instructions
Place the oxtails, diced onions, and minced garlic into a large pot.

Pour 8 cups of water into the pot, then place the pot over high heat.

Let boil for about 45 minutes, then turn the heat down to medium high.

Start adding in the collard greens.

Once all of the collard greens are in the pot, start adding in the seasonings, brown sugar, and vinegar.

Pour the remaining 2 cup of water into the pot, and give everything a nice stir, and place a the lid on your pot.

Reduce the heat to medium, and let the greens cook for 1 hour and 20 minutes.

Start adding in the sliced cabbage, then stir in. Cook for another 15-30 minutes (depending on how well you like your cabbage cooked)

Serve and enjoy with cornbread!
---